Hey! Want to skip learning code and get to building a website right away without any web design know how? If you answered yes check out Weebly. Creating a professional looking site has never been easier.
Introduction
BOOKS WITH FREE BONUS!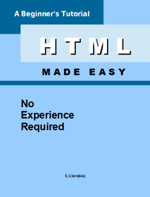 HTML Made Easy
Please support this instructional site by purchasing one or both books. They cost a fraction of what you would pay for a web design course and use easy to understand language to make learning fun and easy.
Plus both books include a FREE bonus download.
You can do it...honest
You don't need to spend money on site design software or enroll in expensive courses to learn how to make a website. Although HTML, the code for making webpages, may look complicated, it's quite easy to learn. In fact it's easier than learning how to use web design software. Really, it is, and you are about to find that out.
So are you ready to make your first webpage? Sure you are, let's get started.
Getting down to business
The only thing needed to make a website is a browser and a simple word processor such as Notepad. Yup, Notepad, even for fancy pancy websites. You Macheads can use Simple Text.
Access Notepad by clicking
Start > All Programs > Accessories > Notepad
Before embarking on making your first webpage you need to know how to turn a regular text file into an HTML file: From the File menu in Notepad choose Save As, give your file a name, any name you like, for example mypage, and add the .html extension to it like so:
mypage.html
The .html extension is what turns a regular text file into an HTML file. It only needs to be added at the time you create the file, once it's made you simply save it because Notepad will already know that it's an HTML file. Save your file in a folder where you can easily find it.
The saved code can be opened and edited from within the word processor, make sure that "All Files" is selected from the drop down menu in the processor's dialog box.
To open the webpage in your browser simply go to the folder in which it is saved and click on the webpage icon.
Important Note
The file name for the main web page of any website must be index.html All other pages within a site can be given any name you like.
Now that you know that you're ready to begin your web design course with Lesson 1
Did You Know....
There's more to getting a website online than just building it. It needs a domain name and web hosting so that it can be seen on the internet. This tutorial uses affordable hosting from A Small Orange and registers its domain address at NameCheap
Please support this educational site by purchasing a copy of HTML Made Easy
Colorful Dog Posters
Dog illustrations like you never saw them before
Personalized Mugs
Make your own mug or customize from preset templates
Business Cards
Design your own or choose from thousands of templates ready to customize online.