Connecting Domain To Weebly Site
Here's how to connect a website address you already have to a Weebly website with just a few of easy steps. The examples in this tutorial use NameCheap as the domain registrar but you can still follow along if you used a different registrar.
When first making a Weebly site you will be asked to choose a domain, select the "Connect A Domain You Already Own" option and enter your website address as in the example:
Click the Continue button (ignore the stuff you will see about emailing your registrar and click Continue again).
Note
Free Weebly sites cannot use their own domain, if you have already chosen to use a free subdomain provided by Weebly and now want to use your own domain, click the SETTINGS tab at the top of the editor, then the "Change" button for the site address and upgrade to a paid plan.
Step 1
Login to NameCheap, click the "Domain List" tab in the side bar, then click the "Manage" button, and then the "Advanced DNS" tab.
Step 2
Click "ADD RECORD"and select "A Record" from the drop down box: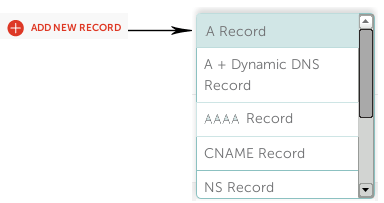 Step 3
Enter @ in the "host" field, and enter Weebly's IP number 199.34.228.100 in the "IP Address" field like so:

Add another "A Record" by repeating steps 2 and 3 but this time enter www in the host field:

Having 2 A Records enables your domain to work both with and without www in the website address
And you are done. If this is the first time you are connecting your domain to a website it may take a few hours for it to start working, so in the meantime you can explore the Weebly website builder and see all the cool stuff you can do without knowing one bit of code!